Location: Mount Pleasant, United States
Gender: F
Member Since: November 2013
Last online: February 2018
Open for read requests: No
FAN ME TO BE THE FIRST NOTIFIED WHEN A NEW PIECE IS OUT. IF YOU'RE NOT A FAN, MOST LIKELY YOU WON'T BE NOTIFIED WHEN SOMETHING NEW IS UPLOADED SINCE THERE ARE SO MANY BOOKSIE USERS AND I CAN'T GO THROUGH THEM ALL :-)
My favorite things:
**
AN ALL NEW SHORT STORY FOR A CONTEST "ROSIE (The Crawler)" OUT NOW!!!!
100 + FANS, YAY THANK YOU SO MUCH I LOVE YOU ALL!!
*Does the happy dance* :')
ROSIE THE CRAWLER
OUT NOW
Rosie is a crawler-- an awful product of her negativity during her human life. All that she wants is to be freed from the hell that she is trapped in, and that can only be done one way... can Brett save her and spare his own life? Read more at https://www.booksie.com/horror/short_story/kw156766/rosie-(the-crawler)#W8hjAIz8kozhp2Ai.99
NEWEST UPLOADS- ROSIE (The Crawler)
CURRENTLY READING- The Mortal Instruments: City of Ashes
PERSONAL-
QUOTES/LYRICS OF THE DAY- "Grow up, but don't give up"
AND SO IT BEGINS.
READ ALL IMPORTANT INFO IN THE PICTURE BELOW
REGARDING READING REQUESTS
All writings are © copyright of KW156766.
ONLINE
(Mostly, anyway)
If you ever need a friend or someone to rant to, my contact info is posted below. I know how it is. Hugs.
*insert dramatic voice here* Annd now to the stuff about me and my work.
Just some things about me that I think you all should know.
I'm 15 years of age. I support same sex marriage. Woo, equality! About time. We're all humans and we all are worthy of love, regardless. I am obsessed with bands and books. My favorite bands are Bring Me The Horizon, Of Mice & Men, Three Days Grace, My Chemical Romance, and Black Veil Brides. << If you know of them, you're a freaking awesome person, dude. I have a name like the rest of you, but you can just call me Krys or KW like many others do. Oh, and one last thing- you're completely irreplacable, so fight the fight and remember that you can't have a rainbow without rain.
Fast and easy ways to contact me:
Facebook: https://www.facebook.com/Catlover.Krysta

<< FASTEST WAY TO CONTACT ME. FB IS MY LIFE.

Email: booksiegirlkw156766@yahoo.com

And here at booksie (of course)
FANGIRL TIME :D Enjoy these beautiful souls below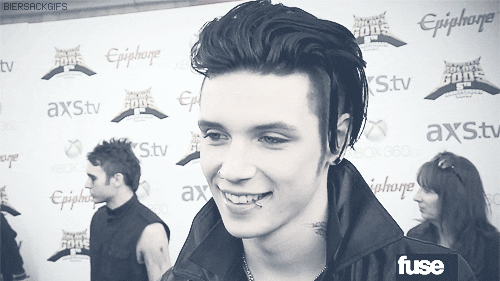 ROSIE (The Crawler) OUT
NOW!!!!
Quickees
This is where you can leave a short message for the writer. All Quickees are public. To leave a private message, use the private .
If you want to write a quickee (a remark or a hint for example) on this writer's profile, please sign in.