Location: Manchester, Michigan, United States
Member Since: June 2009
Open for read requests: Yes
I wanted a happy ending.
Now I've learned the hard way,
that some poems don't rhyme,
and some stories don't have a beginning. middle, and end.
LIFE is about not knowing,
having to change,
taking the moment,
and making the best of it,
without knowing what's going to happen next.
My name is Elena. Lane. Lizzy. Laney.
I want something real to happen.
i believe in all the things that we aren't supposed to believe in.
Love, Fate, Dreams.
Things like that give me hope.
I Like Dancing In The Rain.
I Ignore The Pain People Cause Me.
I Go Along With Whatever.
I speak my mind, but it only gets me in trouble.
Everyone Thinks They get Me.
I'm Not Even Shure If I Get Myself.

I Fell in love. In Love with This Smile.
It took my breath away and I stayed for a while.
Hunkered, stuck in the moment.
He pulled me in
And Never let me go.
He's perfect, and charming,
great and funny.
He's My Prince Charming, Or so I believe.
But I'm Not His Cinderella.
And A Love Like The Books Can Never Happen
If One Loves the Other And The Other Loves Someone Else.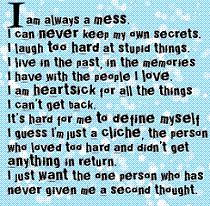 Quickees
This is where you can leave a short message for the writer. All Quickees are public. To leave a private message, use the private .
If you want to write a quickee (a remark or a hint for example) on this writer's profile, please sign in.
Laneylolz is a

member of: