Location: Manchester, United Kingdom
Member Since: October 2011
Open for read requests: Yes
~Ohai! C; the name's Naomi :D
Just to let ya know, im only nice at times, so watch it. I'm Sophisticated, nice, rude, and whatsover only at certin times. So don't bother with me please C;
you'll find out whenever im in a bad mood or not, anyways... i love writing, art, photography, and music. I play some guitar myself. I'm into 60s, indie, rock, metal, crabcore, and well, the usual. people call me "Hipster" But honestly, im not hipster or indie at all, just original. (: Im a big fan of people who can give me a good laugh, and those blessed ones who can, will be treated more respectfully by me. C; oh also, please dont advertize on my proflie.. for example: Hey! welcome to booksie! check out my new novel! hope we become friends!, please please please please, dont do that. stupid people think its "Feedback" but it isnt, its advertizing with NO damn permission. so dont get on my nerves unless you want to get banned from booksie forever. Yes. i was an old writer on booksie a long time ago, but then i discontinued my writting , my fans got dissapointed, i promised them i'll change for them, and i did. :D now, what else can i say? OhYuss, I'm very passionate abotu music, writting, and Photography, i get really let down if someone gets me in a bad mood, but music, writting and photography, chage ti up for me, and im so glad those activities are giving me more power and education. C; damn, i sound so fuckign sophisticated. lmao. okay now, this is a part where i change it up a bti, a little twist may i say? XD
now, as i was saying about that interesting twist... my friend Jess, is on booksie too, shes very popular, and convinced me to join on here too. so i took her claim. Go find her, HeartlessMonstah. thats exactly her pen name XD damn, i hate this color xDDD
okay, this is absolutely better :D xD okay, so this was pretty long...probably.. so uhm, hope you enjoyed it! :D xD lmao, so erm yeah check out my novels and crap, blah blah blah, BYE!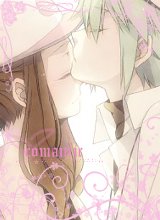 Find me on imvu C:
iiHumpDinosx
check me out! :DDD
Im so hipster! jks jks C; i aint hipstah, im original :D
Quickees
This is where you can leave a short message for the writer. All Quickees are public. To leave a private message, use the private .
If you want to write a quickee (a remark or a hint for example) on this writer's profile, please sign in.