Location: ....., United States
Member Since: May 2008
Open for read requests: Yes
my names paulina i like writing singing dancing and swimming i love to run and get really tired
im not an average 16 year old girl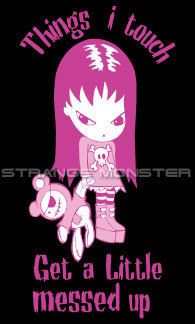 i think differntly i hate it when people lable me ok im not emo,punk,girlly,prep,punk, or w/e other lables there are im just me

i like to sing music is a great part of my life i love to run and exercise i love swimming playing basketball and tennis i think its rather sad that most girls my age think that to get a boyfriend they need to go to school like sluts i think its rather sad i dont really like our society dramma is really stupid i think alot of things are stupid and alot of things that people think are stupid i think are funny for example this saying
"People like you are the reason we have middle fingers"
i can have an attitude problem im afraid of growing old i act my shoe size
i like milky ways and gummy bears i talk in my sleep i can be really annoying i like sharp things I LOVE COMMENTS! i like my alone time but i love hanging out too i dont care what people think YEAH IM A FREAK....DEAL WITH IT
Quickees
This is where you can leave a short message for the writer. All Quickees are public. To leave a private message, use the private .
If you want to write a quickee (a remark or a hint for example) on this writer's profile, please sign in.
possesssed is a

member of: