Location: Wonderland, United States
Gender: F
Member Since: October 2017
Last online: December 2019
Open for read requests: Yes
News
Last Updated Dec 08, 2019
Batch 3, TFR 4: out!
Hiya, readers!
Things are still moving slow for me, but at the very least, it means more time to ensure quality and readability. Regardless, the third batch of TFR 4 remastered chapters is out! We now have chapters 27-35 up; that's "Creatures" to "Fly Away." I haven't had to split any chapters so far, so we're still going steady toward the total number of 45 (again, not including the prologue). This next batch will be the final one! That means we only have ten to go until TFR 4 is completely polished and re-released. Afterward, I'll be able to get back to TFR 5 and that elusive, slow-coming side-prequel. If you have any questions regarding TFR, feel free to ask; I will happily answer. Or just say "hi," either one will make my day!
"Say what you mean and mean what you say. Confront what frightens or offends you. Reckless or insulting talk should never go unchallenged."
- Cheshire Cat (Alice: Madness Returns)
Ladies and gentlemen, one and all, welcome to my profile page! I am Raven Akuma; the metalhead, otaku writer. It's nice to meet 'ya all!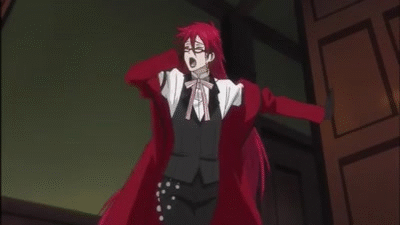 "Please enjoy my deadly efficient page..."
My role as a reader: I'm pretty busy, so it's hard to keep up with a lot of novels! If I do read, some should forgive the lack of comments; I find it hard to organize comments without going overboard and sounding completely nuts. If I do leave one, for the most part, it'll only be on a few chapters. Still, if you want feedback on a good poem or short story, I'll be happy to help there :P
My role as a writer: Yes, my writing is amateur, but my imagination is not! I'll write shortstories or poems as side-projects, as well as "Twisted Souls", but the majority of my time is spent writing my series 'The Forsaken Race.' (TFR for short). This is a fantasy book series inspired by my crazy imagination and love of anime. I started planning this series a few years back, put it to page two years ago, and I haven't stopped since! Nor do I plan to until I see this series published as a manga, and one day an anime! Big dreams, over here, haha.
(Interested? Copy/paste the link in your browser to meet the characters! Warning: I'm not the best artist...)
https://docs.google.com/presentation/d/1RJmigkDxRgz42DAEGKB705uDEZVJiVccsPpybuE8RyA/edit?usp=sharing
Anyways, here's a bit about me. If we like the same things, then maybe you'd like to work out a fan-for-fan, or read-for-read plan. A lot of this inspires my writings, too, so if you like a lot of these, then you'll like my works! (I think)
Favorite Color = red
Favorite Animal = raven
Favorite Animes = Black Butler, Mirai Nikki, Corpse Party, Your Name, Princess Mononoke, Spirited Away, Tokyo Ghoul, Deadman Wonderland, No Game No Life, Problem Children Are Coming From Another World, Spice and Wolf, Danganronpa, WataMote, Code Geass, Unico: The Island of Magic, Hellsing...RWBY (it's an anime in my eyes!)
Favorite Book = Five Nights at Freddy's, IT, Masque of the Red Death, To Kill a Mocking Bird, Warriors
Favorite poem = The Raven, Dream Within A Dream, Acquainted with the Night, Nothing Gold Can Stay
Favorite authors/poets = Edgar Allan Poe, Stephen King, Robert Frost
Favorite fictional characters = Grell Sutcliff, Akise Aru, Blake Belladonna, Sachiko Shinozaki, Pennywise, Deadpool, Lelouch, Kyoko Kirigiri, Holo, Black Rabbit, Cheshire Cat, Jareth the Goblin King, Foxy, Alucard
Hobbies = writing, drawing, reading, painting, playing bass, collecting cool antiques, collecting masques
Also Loves = pokemon, dragons, snakes, sudoku, solitaire, demons, Lamborghinis, Labyrinth, anything macabre, dark rooms, old cartoons, folklore, and my chinchilla :)
Hates = bugs, dogs, people who are d*cks, rap and pop music, social media, new cartoons, romance
Favorite Bands = Motionless In White, Mushroomhead, In This Moment, VAMPS, Korn, Cradle of Filth, Blackthorn, Megadeth, Xandria, Volbeat, Fit For An Autopsy, Ozzy Osbourne, Slipknot, Metalocalypse, Avatar, Amberian Dawn, Raven Black, Oceano, Rings Of Saturn, Ghost, Shadow Of Intent, Dark Sarah, Amon Amarth, Blackbriar, Cattle Decapitation, Marilyn Manson, Gutteral Slug, Terror Universal, Dimmu Borgir
Favorite Videogames = Alice: Madness Returns, FNAF, Halo 3, older Zeldas, Ark: Survival Evolved, Fallout 3, Bendy And The Ink Machine, Ib, Corpse Party, Undertale, Nevermind, Pinstripe, Alan Wake, Mad Father
Recommendations!
It's true that I've met many talented authors on here, and enjoyed their works! Below is a list of who I recommend going to for a great read. I can only read so many works, therefore fit so many names, but hey: the list is growing yet. For who I have now, it's...
Red Hunter
Blankly-Dreaming
FictionalLuna
Joy Shaw
MARIA KUZENARI SHINOHARA
Katherina Csernis
Wyn
れつくる
Alpha Moon
Kossettes Novellettes
Jaylisbeth
S.H.Heggholmen
AnaGVF
Noir Creations
Aaron.Austin.
Allen Darkmyst
Thank you for your time, friend(s). Happy reading!
- Raven Akuma
Quickees
This is where you can leave a short message for the writer. All Quickees are public. To leave a private message, use the private .
If you want to write a quickee (a remark or a hint for example) on this writer's profile, please sign in.
Raven Akuma is a

member of: