Location: Wonderland, United States
Gender: F
Member Since: October 2017
Last online: August 2020
Open for read requests: Yes
News
Last Updated Aug 14, 2020
ALMOST THERE!!
Everybody, GREAT news!!!
TFR 5...Is FINISHED!!!
That's right, I have finally completed the writing process, and I'm feeling really good about it! I'm going to start the proofreading process soon, and once I'm far enough, I'll start releasing the first chapters. As you may know, chapters Pro-5 are already available, so hopefully you've read them -and was interested. I want this to be the best TFR yet, so I'm going to spend more time editing. I'd give it about a week, or so, before the first batch of chapters gets released (probably 6-12, or even more).
Currently, we're looking at 64 chapters. However, as I mentioned, editing has not been done yet and things need to be fine-tuned. That will probably mean splitting some chapters (I draw the line at 4000+ words). It probably won't get too drastic, though -66 chapters at most, hopefully.
This is it, guys; this was what the end of TFR 4 was pointing at. This is where all the buildup comes together! All the important characters have been introduced, to both you the readers and the story itself. Whether it's Atara from book one, Surei from book two, or Nagiri from book four; everybody is present. Now their story -and the next phase of others' stories- can begin for good...and you're gonna like it, I promise!
Thanks, and happy writing! - Raven Akuma
"Say what you mean and mean what you say. Confront what frightens or offends you. Reckless or insulting talk should never go unchallenged."
- Cheshire Cat (Alice: Madness Returns)
Ladies and gentlemen, one and all, welcome to my profile page! I am Raven Akuma; the metalhead, otaku writer. It's nice to meet 'ya all!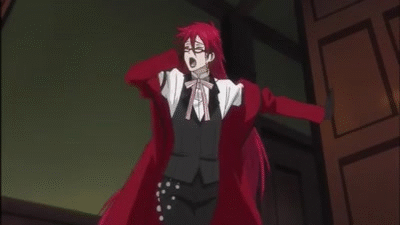 "Please enjoy my deadly efficient page..."
My role as a reader: I'm pretty busy organizing my own chaos on here, especially with constant writer's block, and I'm so easily overwhelmed/depressed/stressed that reading has become kind of a hassle. I try, though when I do, comments are scarce. Still, if you want feedback on a good poem or short story, I'll be happy to help there.
My role as a writer: Yes, my writing is amateur, but my imagination is not! I'll write shortstories or poems as side-projects, as well as "Twisted Souls", but the majority of my time is spent writing my series 'The Forsaken Race.' (TFR for short). This is a fantasy book series inspired by my crazy imagination and love of anime. I started planning this series a few years back, put it to page two years ago, and I haven't stopped since! Nor do I plan to until I see this series published as a manga at the very least.
Tips for reading my book(s):
1: some minor things are always subject to change, so if you go back and notice I replaced some words in a description, please don't be surprised. The story itself is always intact.
2: I use double-spaced paragraphs to move between dreams/visions/flashbacks. I use \\\\\ to switch POV.
3: TFR is rated "Mature." It has strong language, gore, and what I guess some people call "traumatic content" (idk, haha). So if you're a sensitive reader, beware.
I can ensure anybody that I will never sell out in any way just for more attention; I stick to what I have. I'm not targeting some audiences over others, I'm hopefully making my own and catering to it. I don't approve of PC things, or other moves that ruin a series' characters, settings, messages, or overall story.
I will say that I enjoy experimenting with my style of writing, though. Sometimes it comes out well, other times not. In the end, though, I try to make sure everything comes out better than before. so if you read my stories once before and didn't like it, then I encourage you to come back and try again later. You may just find yourself surprised! And of course, I ALWAYS encourage you to criticize me. If I know what you like, I know what to write more of in the future. If I know what you don't like, I can fix what I have and avoid it in the future.
If you're interested by now, you can copy/paste this link in your browser to meet the main cast! (Be warned, I'm not the best artist, haha!)
https://docs.google.com/presentation/d/1RJmigkDxRgz42DAEGKB705uDEZVJiVccsPpybuE8RyA/edit?usp=sharing
Anyways, that being said, here are some fun facts about me 'cause why not?
Favorite Color = red
Favorite Animal = raven
Top-Ranking Animes = Black Butler, RWBY, Future Diary, Corpse Party, Your Name, Princess Mononoke, Spirited Away, Tokyo Ghoul, Deadman Wonderland, No Game No Life, Problem Children Are Coming From Another World, Spice and Wolf, Danganronpa, WataMote, Code Geass, Unico: The Island of Magic, Hellsing
Favorite Characters = Leiytning, Grell Sutcliff, Undertaker, Adam Taurus, General Ironwood, Toko Fukawa, Lelouch Lamperouge, Touka Kirishima, Jareth The Goblin King (of course!), San, Cheshire Cat
Favorite Stories = Five Nights at Freddy's, IT, To Kill a Mocking Bird, Warriors, Grimms' Fairy Tales, Animal Farm, The Giver, The Strange Case Of Dr. Jekyll And Mr. Hyde, Dracula (also, anything by Edgar Allan Poe!)
Favorite Poems = The Raven, Dream Within A Dream, Acquainted with the Night, Nothing Gold Can Stay, Lenore, Porphyria's Lover
Hobbies = writing, drawing, reading, playing bass, collecting cool antiques, collecting Venetian masks
Also Loves = pokemon, dragons, snakes, sudoku, solitaire, demons, Lamborghinis, Labyrinth, anything macabre, dark rooms, old cartoons, folklore, and my chinchilla :)
Hates = bugs, dogs, people who are d*cks, rap and pop music, social media, new cartoons, petty romance
Favorite Bands = Motionless In White, Mushroomhead, In This Moment, Korn, Cradle of Filth, Snow White Blood, Megadeth, Xandria, Volbeat, Fit For An Autopsy, Ozzy Osbourne, Slipknot, Dethklok, Avatar, Amberian Dawn, Raven Black, Rings Of Saturn, Ghost, Shadow Of Intent, Dark Sarah, Amon Amarth, Blackbriar, Cattle Decapitation, Marilyn Manson, Gutteral Slug, Dimmu Borgir, Bullet For My Valentine
Favorite Videogames = Alice: Madness Returns, FNAF, Halo 3, older Zeldas, Ark: Survival Evolved, Fallout 3, Bendy And The Ink Machine, Ib, Corpse Party, Undertale, Nevermind, Pinstripe, Alan Wake, Mad Father, the Strange Men games
Recommendations!
It's true that I've met many talented authors on here, and enjoyed their works! Below is a list of who I recommend going to for a great read. I can only read so many works, therefore fit so many names, but hey: the list is growing yet. For who I have now, it's...
Red Hunter
Blankly-Dreaming
FictionalLuna
Joy Shaw
MARIA KUZENARI SHINOHARA
Katherina Csernis
Wyn
れつくる
Alpha Moon
Kossettes Novellettes
Jaylisbeth
S.H.Heggholmen
AnaGVF
Noir Creations
Aaron.Austin.
Allen Darkmyst
Thank you for your time, friend(s). Happy reading!
- Raven Akuma
Quickees
This is where you can leave a short message for the writer. All Quickees are public. To leave a private message, use the private .
If you want to write a quickee (a remark or a hint for example) on this writer's profile, please sign in.
Raven Akuma is a

member of: