Location: Macungie, United States
Member Since: November 2008
Open for read requests: Yes
~~~NOTE!!!~~~
I will be writing new books, but I have some book projects, and a competition, and ... and... other stuff (so much i forget >.<) SOO... I might now be on a while. Just leave me a message on ma page and I'll get to it ASAFP!!! Just be patient!!
Loves ya -muah!-!! Especially you, Bells XD
The books that are planned to be in the demonology series(worse series title ever but i don't have anything else): just a whisper, forever rising, saving fate, and fall away. there may be more but it will prob. take me a few years to write those lolz
WELL, my real name is Emily but I go by Willie (or Lili, lol Jamie kws that :D) You'll almost always see a smile on my face, but I'm really screaming inside. i have a really messed up life, with hardly any friends. people make fun of me because i'm not like them. but that's ok. i'll do everything they tell me i can't. :) i really am a sad little girl in a world that wasn't made for her, but i'm not going to show it. just go through with life on a smile on your face!!
i write because that's just what i do and once you find your calling it's hard to ignore. and remember when i said a might change the title drowning waters to forever rising? well i'm not. i realize it fits the story. but now i'm considering forever rising in place of just a whisper [which is the first book in the demonology series(bad title but w/e)]!! lolz
And, honestly, I appriciate all the reads and ratings but I need some comments!! I'm only 11!!! I need to know how to improve!!!
I write fantasy mostly, and it helps with my life. I can express anything I feel into writing, and that's the best part. I'm really young actually, but I don't let that stop me from doing anything I love. So I'm writing a book that is called Just a Whisper for right now, and it will be called that unless I feel the need to change it, as a short prologue but I don't think that matters. I just need some opinions and then I can create the story I've been dreaming of :P May you all keep laughing and writing!!! :)
I got more pictures!!! these are characters from my story Just a Whisper.
Ella:
here's Alex (YES it's the guy who played Jasper in Twilight):
Jamie (imagine it biger and with color):
Annabella (her hair is longer tho):
Alice (her hair is a bit longer and her eyes are green in the photo, but close enough!):
FYI - All dedications go out to my 6th grade teacher-of-the-moment Mrs. Brusseler for always encouraging my writing and being one of those cool adults who happen to be my friend (NOT you, Mrs. Coyle. No offense but you're e v i l), and to Ashley P. (aka XxashleyxX) and Jamie S. for always being my friends and sticking up for me. I have tons more I could do, but those are my major ones :P
~Peace out~ Nessie
Some random things about me:
Favorite Songs (there's a lot so lol): sorrow, fully alive, supernatural, perfect, i'm so sick, all around me, penholder, and much like falling, and my favorite is justice and mercy [all by flyleaf], just like you, home, never too late, riot, get out alive, and let it die by Three day's grace (there are more but it would make the list muchh longer), love song by cruel black dove, face down by the red jumpsuit apparatus, come round soon by sara bereilles, i write sins not tragdies, build god then we'll talk, time to dance, and the only difference between matrydom and suicide is press coverage by panic! at the disco, meant to live by switchfoot, just dance by lady gaga, and decode by paramore. trust me, there are WAY more but that's all i feel like typing :)
favorite shows: SPONGEBOB!!!! (duh!!), ninja warrior (not as gay as it sounds), best week ever, and icarly (not my favorite but i like freddie (;D) and miranda cosgrove is a pretty good actress)
favorite movies: TWILIGHT!!!!!!!!!!!!!!!!!!!!!!, the messengers, and one missed call
favorite color: blue!!! (because there is a shade of blue for every emotion)
most favorite teachers: mrs, brusseler, mrs. reed, and mr. brem (i could say more...)
most hated teacher: mrs. coyle (no offense)
favorite make-up and hair product: eye stuff and a ceramic blade straightener that doesn't damage your hair!! (clap,clap)
well that's it ;)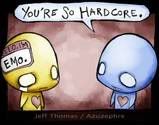 Quickees
This is where you can leave a short message for the writer. All Quickees are public. To leave a private message, use the private .
If you want to write a quickee (a remark or a hint for example) on this writer's profile, please sign in.