Location: Zagreb, Croatia (local Name: Hrvatska)
Member Since: December 2012
Open for read requests: Yes
Well, lets see... I'm 25, I just finished collage and I'm looking for a job. I am a manga/anime fan. 5% of population in my country actually knows what anime / manga is. My family thinks I am too childish because I everywhere have this kind of pictures . You only need to say the word fantasy and people here will look you like you are a weirdo, really. Unless you are talking about Bella and Edward of course. Online is the only place I actually can talk about this with somebody. I focus on fantasy genre and I'm better in writing than drawing, I do both from my grand school and I am hoping to learn more about digital art and photoshop . I have a DA account where I uploaded my first PS pictures and writings, spending a lot of time on translating part of them on English. Also, English isn't my native English so if I post something that sounds wrong, correct me please. :) Also I love music, movies ( romance, scfi, fantasy , action, drama, horror in certain amount ), drawing, reading, animals ...
I started drawing and writing fantasy in grand school, and I still do it. I am not getting any proffit from that still, and I doubt I ever will, since publishing in hard in my country plus I use some beast designs and terms from games Monster rancher and Shadow hearts which might lead me into troubles of sharing proffit with them if I ever make it... ( ? ) Anyway, I'm here hoping to get readers and comments about my story.
Do not randomly request me to read and comment your work. I will read the work of my fans around here and from people I choose for my own reasons. If you leave a comment on my work with your opinion about my chapter, I will come back to your work also with my honest opinion soon or several days later; I am more active on Deviant art with drawing and I have things to do there with deadlines. Check my News section about that.
I am not interested in reading:
-police-detective content
-horror ( I can take some ammount... )
-secret misions/agents/ Sherloch Holmes/ James Bond kinds of stuff
-only action stories ( killing, murders, explosions, it has to have some interactions between characters, relationships descriptions, romance, conversations... )
- universe not really my interest, but I can read it...
- short romance stories ( romance and fantasy is my favorite genre but when I'm reading I read real- book- long pieces, I want length and deepth, lots of conversations and descriptions, not just a sentence like : -he loved her more than his life- )
Check my screenshots and other pictures ( Dragon age,pokemon, VK ) on photobucket and DA ( 0n Da I have 70 chapters of my story now ) :) :
my DA account : http://selina99999.deviantart.com/ http://s1171.photobucket.com/albums/r556/Selina99999/Pokemon/ http://s1171.photobucket.com/albums/r556/Selina99999/ http://s1171.photobucket.com/albums/r556/Selina99999/Dragon%20age%202/ http://s1171.photobucket.com/albums/r556/Selina99999/Zeki/
my Facebook: http://www.facebook.com/selina.cat.56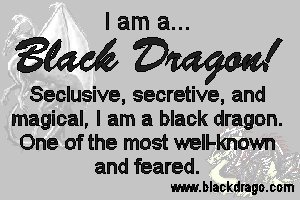 I am a Black Dragon! What dragon color are you?
My fantasy is my life :)
b pictures
ss pictures
Quickees
This is where you can leave a short message for the writer. All Quickees are public. To leave a private message, use the private .
If you want to write a quickee (a remark or a hint for example) on this writer's profile, please sign in.
Selina99999 is a

member of: