Location: Hell, California(Not really Hell, but it feels like it), United States
Member Since: December 2008
Open for read requests: Yes
33 year old male, single, white, l live in a small ass hick, redneck town in Northern California, I'm Bisexual, I love Fantasy, Horror, Goth, and SciFi movies and books. I love to write, I love pretty much any kind of music, U2 is my fave band. I love to play Video Games, and Roleplaying games, namely Starwars and Dungeons and Dragons.
I'm into the Supernatual big time, and I have an affinity for Criminology, History, Mythology, and Astromony.
Erik_the_Viking76@hotmail.com, my main email
If you are going to leave a comment, please leave your Username. I will not respond to comments left by people that give no Username. Especially if said people are going to leave negative remarks on a piece I have written. If someone can't bother to leave a Username, then don't bother writting a comment.
My quirks and little intericacies(or however you spell that word)
-I possibly have ADD, as well as Short Term Memory issues and I have Rheumatoid Arthitis.
-I hate spiders with a passion, even in books or on the t.v., Death to all Spiders!
-I love just about any kind of food, though I am allergic to Mangos, which upsets me cause I really liked them.
-I am affraid of heights, so much so I would take a cruise ship across any ocean from America to Europe or Asia, then fly in a damn plane.
-I love swords, knives(though) I do not own any, i wish I had a replica of the sword used by Mel Gibson as William Wallace in Braveheart, as you read on down further, you'll know why), and I am an avid collector of movies, books, and music.
-I am a Moderate in the truest possible sense of the word, when it comes to politics
-Though I am Christian, I am very open-minded, as I believe in the Celtic way of Reincarnation, I Accept that there was a place called Atlantis, lost long ago, I do beileve we are not the only intelligent species in the Universe. I accept and believe in both God and the Goddess, who both created everything, and if I could I would wear an Ankh and join the Coptic or Egyptian Christian Church, the oldest in the world, well before the Catholic Chruch, if for the only reasons being they do not goto war with other Faiths, and the Coptics say all their prayers in Ancient Egyptian.
--I live with my Mother, its just me and my mom now, both her parents', my Materal Grandparents are both passed away, but I believe they are in a far better place, My Gramps was a Marine from WWII, my Gram worked most her life in Retail. My Gramps worked all his life as a damn good Mechanic, though he only had an 8th Grade education. He was highly respected by the City Council and department heads of my hometown, he knew how to get things done. And for the 12 years he was the Chief Mechanic of the City, as well as running the Street Department the last year of his career as Chief Mechanic. My Gram was a good, and loving woman, though stern at times, she was a wiz when it came to math and accounting, real good Bridge player too, 20 years and a Bronze life master, and my Gramps was a damn good poker player in his youth, they also both won local Cribbage Tournements, and I got real big and strong on their good cooking, which I learned from them, as well as how to play cards.
-I am a great believer in standing up for what you think is right, and never backing down, like the freedom to speech, and the right to worship, and all the rights put forth by our Forefathers, I do believe in order, but not the kind of order that takes away freedoms, that smacks of tyranny, and that is not what my Gramps fought for, or anyone who fought for America in its wars, they fought for Liberty and Freedom, something our politicians have forgotten.
-You can even say that the concept of Liberty and Freedom goes a long way in my family, all the way back to some rather well known ancestors of mine, distant yes, but still ancestors. William Wallace(the Scottish Hero, portrayed by Mel Gibson in BraveHeart, though the Historical Wallace is far different from the Movie protrayal), Field Marshall Montgomery(Commander of the British 8th Army during WWII, the first Deputy Commander of Nato, and the Army Chief of Staff after WWII, he died six months after I was born in 1976), and lastly Robert Burns(Scottish Poet and writer, lived in the 19th century if I am correct, was a bit of a Scottish Nationalist, and even wrote and you can look this up, he wrote that very famous tune we all sing on New Years Eve, Auld Ang Syng, or however its spelt)
Yes my new favorite race from the new version of Dungeons and Dragons, the DragonBorn, a Race born of Dragons and Humans. These guys are real bada$$es, they rock, not like boring humans. Ughh I hated playing Humans in DnD, Dragons are much cooler, and now there are the DragonBorn.
And yes I like Dragons, I was after all born in the Year of the Dragon, 1976, and if there was always one animal type I always liked were Reptiles. Dinosaurs and Dragons, one Real one well not sure, maybe they are real, Dragons that is, really fascinated me. I would draw both a lot as a kid, they both still fascinate me.
And yes I really like Starwars as you can tell, lol...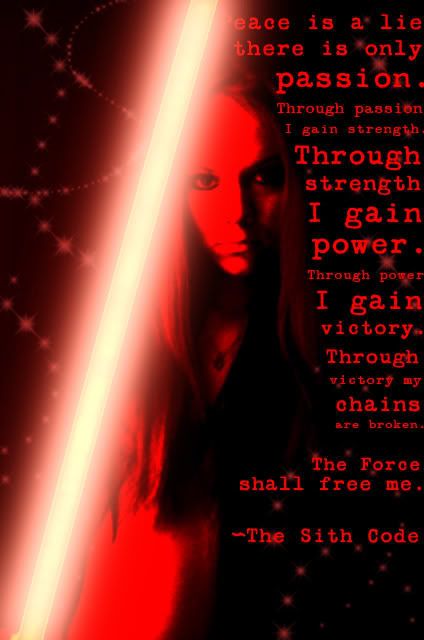 Quickees
This is where you can leave a short message for the writer. All Quickees are public. To leave a private message, use the private .
If you want to write a quickee (a remark or a hint for example) on this writer's profile, please sign in.
Fans of

ShadowsandMisery:
ShadowsandMisery is a

Fan of:
ShadowsandMisery is a

member of: