Location: Venice, United States
Member Since: August 2010
Open for read requests: Yes
Hello Guys!
I just want you to know, I do not get on Booksie anymore, so you will not be able to reach me on here or anywhere else.
I have moved on from Booksie, for the sake or what is best for me.
But keep your dreams, if you still love to write. I still do, I just don't have the time for it anymore.
♥Much love♥
Jessie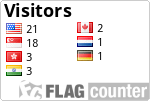 Quickees
This is where you can leave a short message for the writer. All Quickees are public. To leave a private message, use the private .
If you want to write a quickee (a remark or a hint for example) on this writer's profile, please sign in.
Fans of

twilightandsoftballfan15:
twilightandsoftballfan15 is a

Fan of:
twilightandsoftballfan15 is a

member of: