Location: United States
Member Since: July 2009
Open for read requests: Yes
Please comment on things I've written and tell me how I can make them better. I'm open to any ideas!!!
Name: No, my real name is not Violet but feel free to call me Violet or whatever else. My friends and I all came up with random nicknames for each other because we wanted different names for when we signed each others bookcovers and Violet Moon is what I got. But nobody probably cares about any of this do you? lol.As for my real name, if you want to know just ask! :D Age: Sorry, but all you get to know is that I'm in high school! Hobbies: Riding my horses, reading, writing (duh! that's why i'm here! lol. jk), hanging with my friends, playing almost any sport but football, watching football games (i like to watch not play. its much safer in the stands. you don't get piled on. lol), drawing, and talking to my friends Things I Hate: People who think they are better than everyone else, baked beans, and peanut butter The Thing That Bugs Me The Most: The whole Twilight war (if you wanna know how I feel about it, read my book review on it. I don't hate it or love it.) and liars, just tell me straight up! I'll find out the truth eventually My Friends on Booksie: my best friend is BlackTear (everyone should check out her novel Welcome To Hell, Enjoy Your Stay. It is amazing!), rayray92 (one of the many amazing writers on Booksie and is awesome for all her comments and one of my besties here on Booksie), Skater Wuv (love everything she writes and another one of my besties here), Words Speak (a great writer and I love his novel Superteens!), Drizz (check out his novel The Never Ending Path/ Sons of The Night), hhhh (her novel SeiSei), Darknessinside (an amzing poem writer!), jwb (another amazing poem writer), Jacob Coote (check out his amazing novel The Perfect Robbery), Namoi Taylor (she has many amazing things posted), and yourpenname (she is young but is an amazing writer).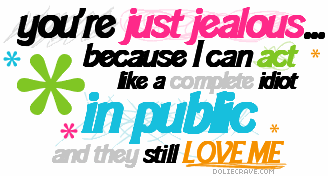 I am pretty much your typical teenager. (in my opinion. lol) I love to have fun and will talk with anyone!!!
Who's the last person you talked to and what did you say?
To My friend: Sure, we can go to the movies!!!
Where are you?
My Room!!!
Look up. Now look back. What did you see?
The cieling and fan!!!
What is the last thing you ate?
Cottton Candy!!!
What's your personality like?
I'm Shy around strangers, but talkitive with my friends!!!
Who do you have a crush on?
Oh just my super cute best friend! hehe :)
What was the last thing you thought?
I'm So bored!!!
Say "George Bush". What's the first thing that comes to your mind?
I liked him as a president. lol
You now have a million dollars. What do you do?
Go shopping and get whatever I want!!!
What are you eating/drinking right now?
Nothing!!!
What are you writing RIGHT NOW?
The answer to this question!!!
Find a globe. Spin it. What does it say?
Don't have a globe. Got knocked off the table and broken by my dog!!!
Find a book. Turn to page 56, line 18, word 6. What does it say?
Besides (Just Listen by Sarah Dessen)
What can you hear right now?
Music from my i-pod!!!
Have a conversation with the closest living thing to you other than yourself.
Stop chewing on my shoes!!! (my puppy)
Turn on the T.V. What show is on?
A Walmart commercial. Boring!!!
What happened last time you were typing here on this computer?
Emailed my friend!!! :D
Stand up. Close your eyes. Spin around three times. Stop. Open your eyes. What's the first thing you see?
My Bed!!!
If you could be anybody from Warriors who would you be?
I don't know. Those are books right???
Find the third letter of all your answers. Underline them. MRETSOSISTENSSOAABO!!! Hmm, never heard off that before...
If you just read the quiz, copy and paste it onto your profile.
You Know You Live In 2008 When: 1.) You accidentally enter your password on a microwave 2.) You haven't played solitare with real cards for years 3.) The reason for not staying in touch with your friends is they dont have a screenname or my space 4.) You'd rather look all over the house for the remote instead of just pushing the buttons on the TV 6.) Your boss doesn't even have the ability to do your job 7.) As you read this list you keep nodding and smiling 8.) As you read this list you think about sending it to all your friends. 9.) And you were too busy to notice number 5 10.) You scrolled back up to see if there was a number 5 11.) Now you are laughing at yourself stupidly 12.) Put this in your profile if you fell for that, and you know you did
Things I'm currently writing:
(If you click on any of the banners it will take you directly to the novel they go with. Enjoy!!! )
Okay. So I am going to finish all my novels eventually. I will continue working on each one of them when I come up with more but here is the order that I plan on finishing them: 1. The Scream In the Wind/ I'm Always There
2. Every Moment Counts
3. What Winter Brings
4. The Unknown (temporarily stopped. Sorry but I really want to get my other three novels done first and they are my top priority. I'll try and get another chapter for this novel written as soon as I can!)
Guess what!!!!!!! I just finished my first novel ever!!!! Here will be the list of finished novels:
Thanks and please tell me to keep working on them and leave comments otherwise I'll forget and they won't get done. lol.
I will be updating my news more often so please check it out! Also, any news that is not up there is posted on a entry called My News. Thanks! :D
Thanks for visiting my page! Is your finger tired from scrolling so much? Sorry about that!
Quickees
This is where you can leave a short message for the writer. All Quickees are public. To leave a private message, use the private .
If you want to write a quickee (a remark or a hint for example) on this writer's profile, please sign in.
Violet Moon is a

member of: