In a nutshell, I'm a weirdo. Even my friends don't get me half of the time. My passions are art, writing, acting, and music. I'm one of the most indecisive people you'll ever meet, and spend most if my time off in my own little world. I'm sensitive, an eternal optimist, and comfortably confused. I smile because it makes people wonder what I'm up to ;)
I love to draw anime (been doing it for almost six years), and I'm hoping to have a manga out sometime in the near future. I also love writing, and just recently finished my first multi-chapter piece, The Mortician's Daughter, which can be read on my deviantART. Once I start editing it, I'll get it up on here. I've just recently started to experiment with writing plays, and I must say, I LOVE it. Different from what I'm used to, but in a good way :)
My current plans for the future are to major in theatre, so we'll see how that goes XD I love anything having to do with theatre, and have worked on 2 school plays.
Also, I'm constantly listening to music, and have too many bands that I listen to to name XD I mostly listen to post-hardcore, metal, rock, screamo, some electro and pop. A few of my favorite bands are Black Veil Brides, Escape the Fate, Schoolyard Heroes, Alesana, The Word Alive, Mindless Self Indulgence, and Snow White's Poison Bite.
Anyway...here I am. Meet Brandy XD
See that guy up there? Yeah, he's my inspiration <3 Andy Six.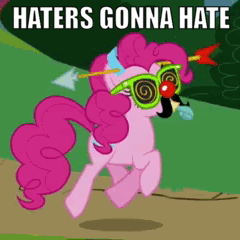 MY LITTLE PONY. PINKIE PIE. ENOUGH SAID.
U MAD, BRO?