Location: Salt Lake, United States
Member Since: June 2012
Open for read requests: Yes
Hello there. Wolves here I'm so glad to be able to use this site. I love reading and writing it's a good pass time.
Some things you might want to know.
I go by Jake or Sheaba or just wolves
I'm 14 years old.
I live in a small town of 467 in Utah.
I'm an animal lover. I have six dog and four cats. All most every dog in my town that knows me loves me.
My pets:
Panda nine year old black and white Pitbull.
Hannah five year old corgi red heeler mix.
Reeses nine year old rottie german shepherd mix.
Dixie 3 year old rat dog.
Dusty 5 year old rat dog
Buddy 7 year old rat dog.
Zushie Sheaba Nickcoalett and Puffy tabby mixes. Zushie and Sheaba are due to have kittens.
Animals are my life they will never stab you in thr back and there always there. I live with five other people, my and dad my grandma and my aunt and uncle. My grandma yells to much and seems to hate me. I often just want to leave, but to bad for me huh? I love and hate where I live, it's quiet and calm and there are so many animals. On the other hand people are asses, and don't care about their animals. It really sucks. I am a Bisexual, although I haven't came out in school or at home. I mean I'm starting my first year of high school and kids would eat me alive. I don't date I think it's stupid at my age. I'm a really nicee person for the most part and I will always listen to what you have to say. If I know you or not. I'm do have a bad temper and very easy to piss off so don't get on my bad side. I have what my friends call a snake tounge which just means when I get mad, I'm going to say what I feel. People online know me better then people in real life do.
My favorite animals are Wolves, Tigers, Snow leopards, Pitbulls, Huskies, and Alaskan Malamutes. But I love all animals.
Be who you are, love who you wanna love, and fight for what you care about!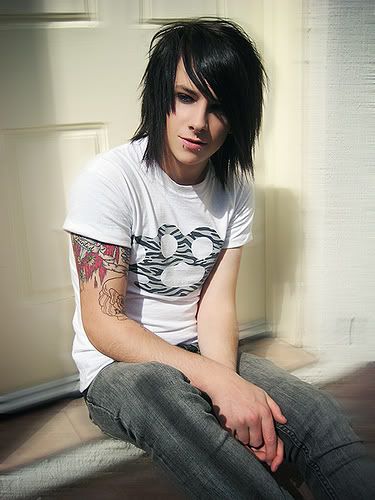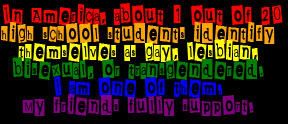 So what you saying is you'll hate me if I love her instend of him? Why should it matter. It's my life is it not? So just fuck off people.
People always ask me: " Does you dog bite?"
Me: " No but she might lick you to death."
People: " That dogs a killer!"
Me: " Nope she's a teddy bear."
People that come to my house: " Oh my God get the dog away from me. How can you trust it with all these other dogs, and cats it's going to eat them!"
Me: " Haha eat them? More like act like their mom.
I love the hell out of my Pitty so if your gonna talk shit on her. You can fuck off ass hole.
Haha I love how peoples animals love me more then they love them! Take care of your animals and they might like you people!
This sign hangs in MY window.
I'm The Devil's Child!!!!!!!
My Corgi Red Heeler mix is more likely to rip you to peices, then my Pit.
Bands I like/love:
Adam Lambert
Killer Tattoos:
AND MANY MORE XD
I could care less if you like me. I don't care if you hate me. Say what you won't. But say something about my familey or friends, and by God your head will be ripped off.
Talk shit on me. I don't care. Say something about her, and your dead buddy!
Don't let it bug you if I ever call you Babe, Baby, Hun, stuff like that. It a bad habit of mine.
I'm always here for you if you need me. My sholder is aways here if you need to hide your face. I will listen to you no matter what you have to say. My jacket is here if yourever cold. I'm always just a message away, I'll always be here for you, 'cause Wolves cares. I love you...
Friends I can't Live with out:
I don't know what I would do if that dog never bit you, I guess I wouldn't know you. What if I never moved. I wouldn't have you in my life. Your a good friend and I love you with all my heart. I will never forget you. Every time I look at the house across the street, it brings a little smile to my face. All the good times we had there. All the time I snuck people in. All the times I watch you little brother while you snuck out. All the stupid shit we did. That time we were in the basement house and I stepped on the hole you were talking about, because it was coverd by a box. That one day when we were both sitting in the living room and your hot cousin walked in shirtless and both our jaws dropped. That time when the stupid lady down the street brought something over to your house and I was staring blankly at the wall, just as the line ' I'm even leaning how too cook speed!' played. The time you and your cousin got locked out of the house by your brother, and he was running around naked inside. And there was the day I dropped to my knees crying because I hurd how sick you were. But you being the shit head you are pulled through. Yeah all those good times.
I love you Abbers.
Haha Aw where to start here. Remember the first time I saw you on the bus. And Michal Made you laugh so hard you cried. I thought you were such a good girl with that blonde hair and glasses. But then the draver made us sit together. Haha the things that were said in that seat. Remember the day were were talking to that cute high school and you said something, and his eyes went like this O.O. Yeah that was good. Remember the day I came to school with a sunburn and you slapped my cheek so hard it left a mark. Remember that day you were high as hell and wouldn't shut up? Who was the one that skipped four classes to chill in the bathroom while you tried to caml yourself. Remember the day you bit my neck and I had to hide the mark for a week, so my mom would think I was being bad. Ha remember when you came to my birthday party all girly and my mom thought you where a goody good. Haha the next time you came over yeah she was wrong. Remember when I sat down on the bus and you were sobbing. Because you walked in on Matt and his best friend? Yeah I remember that. Remember the day i was on the phone with my mom and you and the guys starting yelling for me to get my ass back here. Oh yeah that was hard to get my mom to listen. Remember the day you licked my cheek infront of one of the teachers. Remember when you said two of my fingers on my right hand where yours. Haha yep life is great.
I love you Bails
Ahh hehe. Remember when we drew all over each other in sixth hour and got sent to the office in seventh. Rememer the day you kept hitting the window with the frizbee and the teacher made up sit in the corner of the room. Remember when you kept kicking my foot and Mrs. Lloyd told yout to stop playing footsies with me. Remember when Mrs. Lee called you me pet. Remember when your sister got high and all we did was laugh. Remember when you got Jenny high and I kicked you ass. Remember when I almost pushed you off the wall when we were waiting for the bus, and I was trying to get you to fall over all of the next day. And I won when you didn't have chair in sience and I pushed you over. Yep that was great.
Love ya' Ty my brotha
Hey Wade ya' fucker remember when we were best friends. Remember when I helped you get Abby! Yeah I helped you do that and told you what she liked ever day, told you every thing that she told me. I miss you ='(. Remember when we went shooting and Wyatt was making fun of us 'cause you were telling me how to aim better. Remember when Wyatt told me to come over to your house at like seven and your hair was still all messed up, and you still had that morning voice. Yep I still hate you. Go die in a hole. I hate that stupid love hate stuff we go though. And I still wanna know why you hate me.
I hate and love you Wade
♥ ♥ ♥ ♥ BVB ♥ ♥ ♥ ♥
• REAL BVB fans- know what BVB stands for
• REAL BVB fans- don't like the band just because of Andy
• REAL BVB fans- know who the only original member of the band is
• REAL BVB fans- know more songs than Knives and Pens and Perfect Weapon
• REAL BVB fans- think Chance and Andy never gets old
• REAL BVB fans- know every band members name and what they do
• REAL BVB fans- know that Ashley Purdy is a GUY
• REAL BVB fans- have made "never give in" their motto
• REAL BVB fans- know most/all the lyrics to every song
• REAL BVB fans- know why Sandra left and support her
• REAL BVB fans- love CC
• REAL BVB fans- have this on their page
• REAL BVB fans- will support BVB no matter what
• REAL BVB fans- love all the band members
• REAL BVB fans - will put this on their profile
♥ Andy ♥ Ashley ♥ Jake ♥Jinxx ♥ CC ♥
BVB Army Soldier&Bridesmaid Forever and Ever
╔══╗
╚╗╔╝
╔╝(¯`v´¯)
╚══`. ¸.BOTDF
-Show Your Support ╔═╦══╦═╗Put this on ur profile if u are ║╩╣║║║║║ or support emos
╚═╩╩╩╩═╝
Well there ya' are.
~ Wolves
Quickees
This is where you can leave a short message for the writer. All Quickees are public. To leave a private message, use the private .
If you want to write a quickee (a remark or a hint for example) on this writer's profile, please sign in.
WolvesRule1 is a

member of: