Location: Ninja Town, United States
Member Since: April 2011
Open for read requests: Yes
PLEASE READ MY NEWS!!!!
FIRES OF REVENGE CHARACTER DEVELOPMENT
Please note that none of these are drawn by me or have anything to do with me. They are the general image of my characters and full credit goes to the artists who drew them (whoever they are).
Rylek of Ruine (In drawing phase)
This is the most generic image I can find that best suits our hero protagonist. I've always imagined a boy with short(ish) pale silver hair. I know I have black written in the story (which I changed actually) but when I see Rylek I always think silver.
Mei of ????
Mei is one of my more mysterious characters for the time being (ooooo plot hole :O). Anyways, again with the hair color change. I know I wrote black (as Rylek had been) but I like her with brown hair better now that I think about it. She supposedly has a long red ribbon tied to the top of hair that sways down to her shoulder level (which I know I haven't mentioned, but it didn't seem that important). I don't know what to say about the outfit so I'll skip that. The only other feature that made me believe this was the Mei I was looking for was that rack :P. Lol Mountain Breasts.
Jamin of (the late) Freina
This is more of a base-off than an actual design. For any of you anime lovers out there, you'd know immediately who this man is :P. Anyways, this is the first time I've mentioned Jamin's village (which will be brought up soon). Jamin's always been the badass, obnoxious, muscular man that this character has always been. After finishing the series, I really wanted to base a character off him. And so, Jamin was born.
Hugo of ????
Many of you major anime goers could get this in an instant. Again, based-off this character from the popular running anime, Naruto, Hugo was born. His hairstyle pretty much suits what I see Hugo as. Just imagine away the headband and swirls and that's pretty much Hugo.
(Princess) Yuno of Laguran
Behold Yuno, Princess of Argarnia and heiress to the throne. I've been waiting a long time to post this and finally I can. This is literally the exact image I had in my head when I thought about this. The trimmed hair, gold bands, bright red eyes, extravagent dress. All of it.... well a few flaws. EVERYTHING'S GOTTA HAVE FLAWS :D! I will be drawing her in both her traveling gear and her royal outift after Rylek.
Marian of Ja'nel?
Yes, this is the EXACT character I was thinking of when I created Marian. The girl in the pic is actually from an XBox game called "Tales of Vesperia." But, besides the goggles that's Marian. Nothing more to say. I just love the actual character in the game so much xP. And yes the '?' is on purpose. Rylek found Marian in Ja'nel but it doesn't necessarily mean that she is from Ja'nel. Again, another HUGE spoiler it would be if I told you her origins.
and so without further a due
HEY WELCOME TO MY PROFILE :D!
About me:
The name's Aaron, but I prefer Zuff, my nickname.
I'm 18 and a Senior in High School.
I'm a nice guy with a strong PASSION for writing.
I Love Anime/Manga <3 (No I'm not Asian :P)
My favorite is character is definitely SHANA
Admit it, she's cute ;D
I love Japanese Music
Preferably KOTOKO, Hearts Grow, UVERworld, Nami Tamaki, ClariS, FictionJunction, DJ SHIMAMURA and Chocho :D!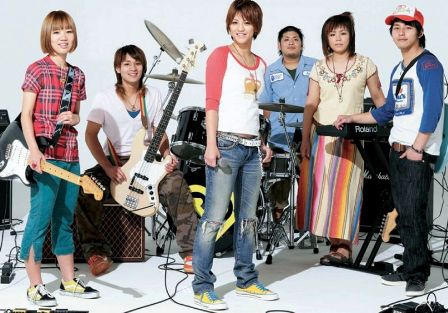 No I'm not Asian, I'm CaucASIAN ;D
Anything else about me is classified >.> But you're welcome to ask
ANYWAYS...
Anyone with a writing challenge for me feel free to try me, I've got an overactive imagination.
Also feel free to ask me to read your work, I'll gladly check it out since I don't read as much as I want to.
However, I'll only be reading 5 series' at a time. So make sure you get to me first.
Reading List:
1. Tales of an Assassin series by FallenNinjaRouge
2. The Normal Magic by Jingle Q
3. D.E.A.D series by FallenNinjaRouge
4. Lovely Complex by Entangled
5.
I like to update weekly (at least a chapter or two a week) so I'm kinda slow. I try to focus on "Quality not Quantity".
Need a fan? I fan for a fan in return (No, I'm not being a fan whore. I like to get to know more people.)
Any other questions? Leave a comment on my page or email me at shadow_ninja0095@yahoo.com.
Also, check this dude out -------> VDHWriter
He's cool and he's my bro ;D (Bro as in close friend not as in brother)
You're not checking him out if you're reading this.
Really he's a cool guy!
Okay you're a jerk if you're still reading this.
Fine be that way!
JERK!
Want to reach me faster?
Zupfera@student.wpunj.edu
I am:
[ ] Online [ ] Offline [ ] Busy/Writing [ ] Reading [X] School and Shiz
Quickees
This is where you can leave a short message for the writer. All Quickees are public. To leave a private message, use the private .
If you want to write a quickee (a remark or a hint for example) on this writer's profile, please sign in.
ZuletskiBoy is a

member of: